Machine status

This screen shows the real-time production data. Machine status is color coded, and a progress bar reports order completion percentage.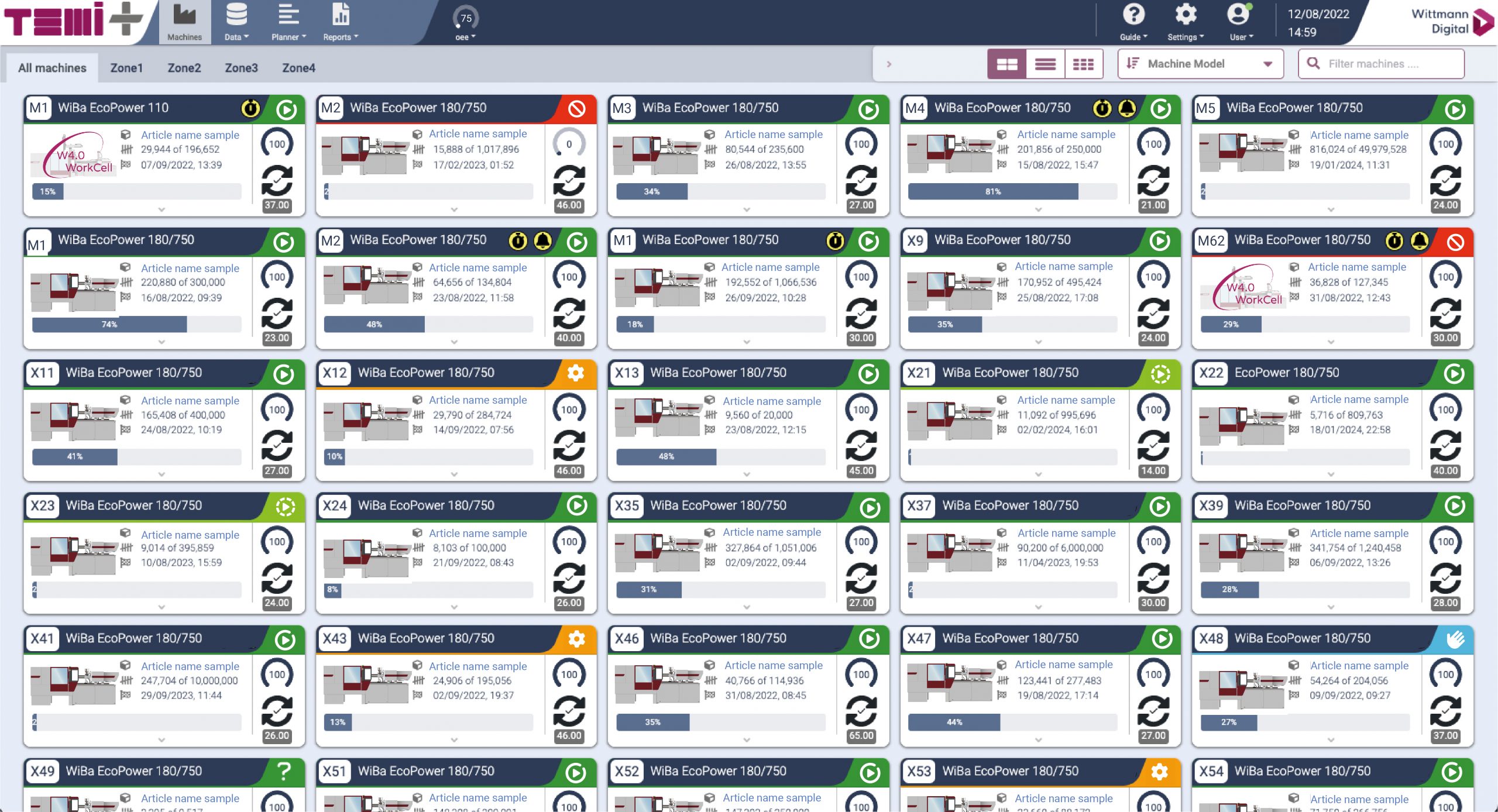 A simple and intuitive view is provided to show global process advancement.
Specific production details are provided for each machine with a single touch.
Monitor della macchina
Ad ogni macchina è assegnata una pagina di dettaglio che mostra la visualizzazione in real-time dell'avanzamento dell'ordine e dei dati di pianificazione, seguiti dai dati di processo: cuscino, tempo di dosaggio, tempo di iniezione, cronologia degli allarmi e altri dati utili di lavorazione.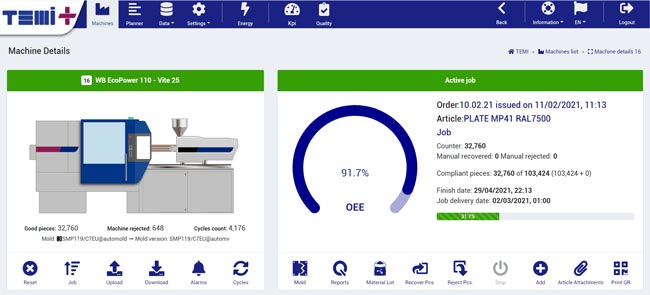 Da questa schermata è possibile stampare un'etichetta adesiva (o QR-code) che permette di recuperare i dettagli del prodotto, come il codice dell'articolo e la descrizione, il numero di pezzi prodotti, il numero di lotto e il codice del prodotto, che fornisce ulteriori dettagli sui parametri di processo registrati in ogni ciclo.

Planning
Planning is a crucial aspect of production. It consists of two steps: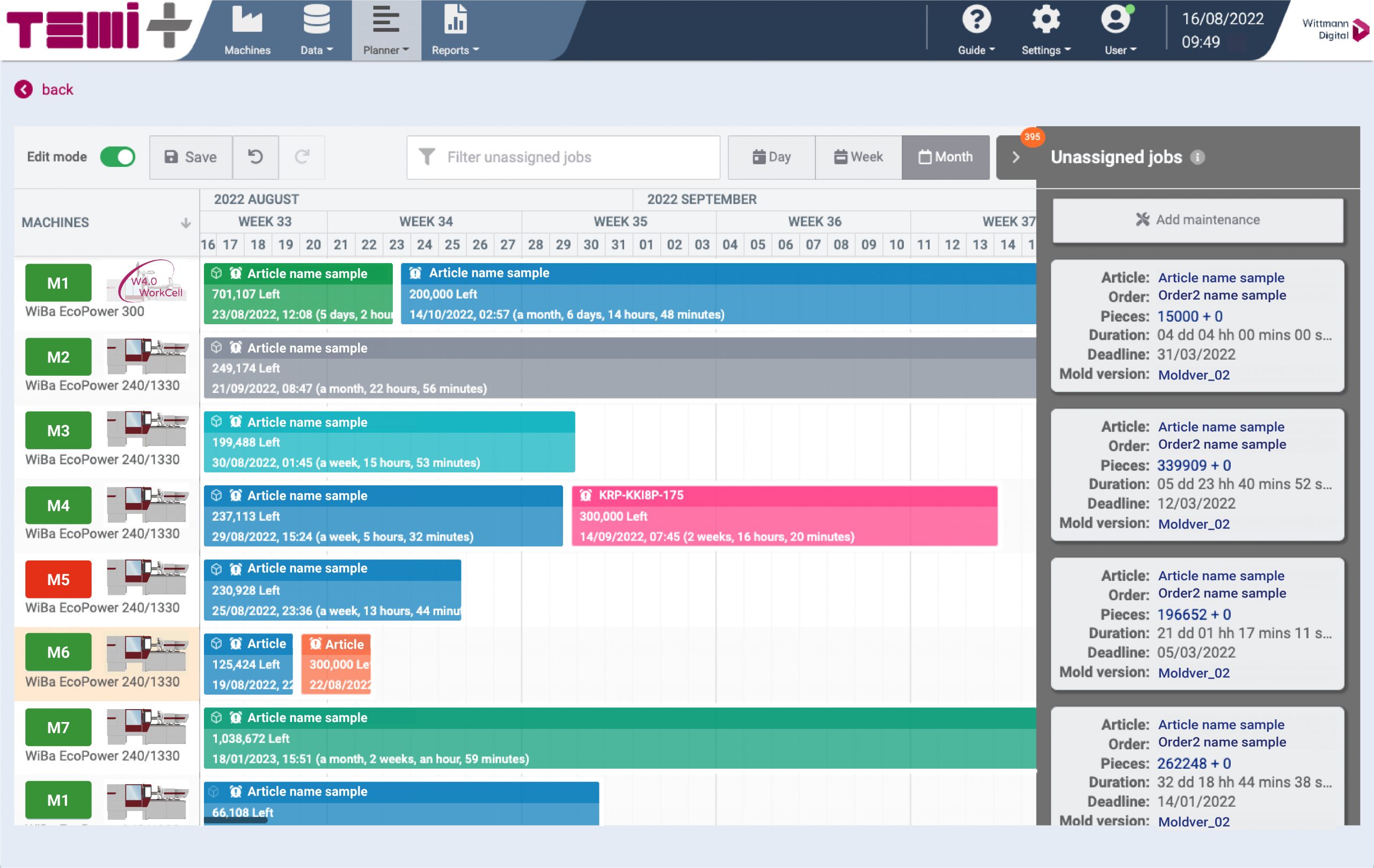 Using configurable product cards, optionally importable from existing management systems, it is possible to create a job to be allocated to machines. Planning relies on a simple and intuitive Gantt chart: the production manager, knowing the machine's operative status, organizes new orders easily while involved departments are effectively notified.

Machine monitor

Each machine is given a useful and meaningful page (area) that consists of a real-time view of order progress and planning data accompanied with process data: cushion constancy, dosing time, injection time, alarm history and other insightful data.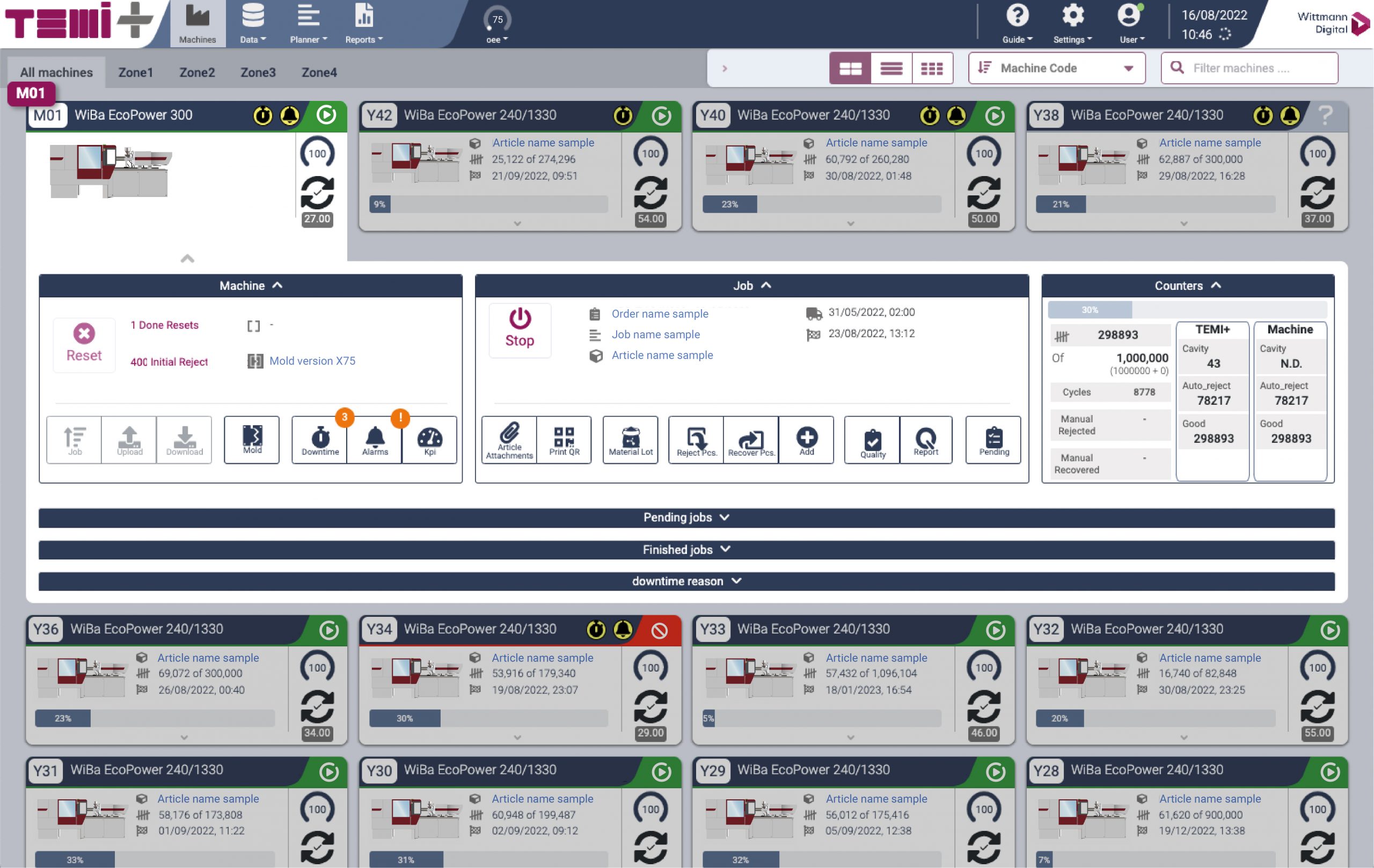 This screen enables users to perform several functions like adding, recovering and rejecting pieces manually during production, start and stop a job and see the attached files.

Production KPI

Key Performance Indicator (KPI) represents the process markets useful to monitor, understand and improve the efficiency of a production plant.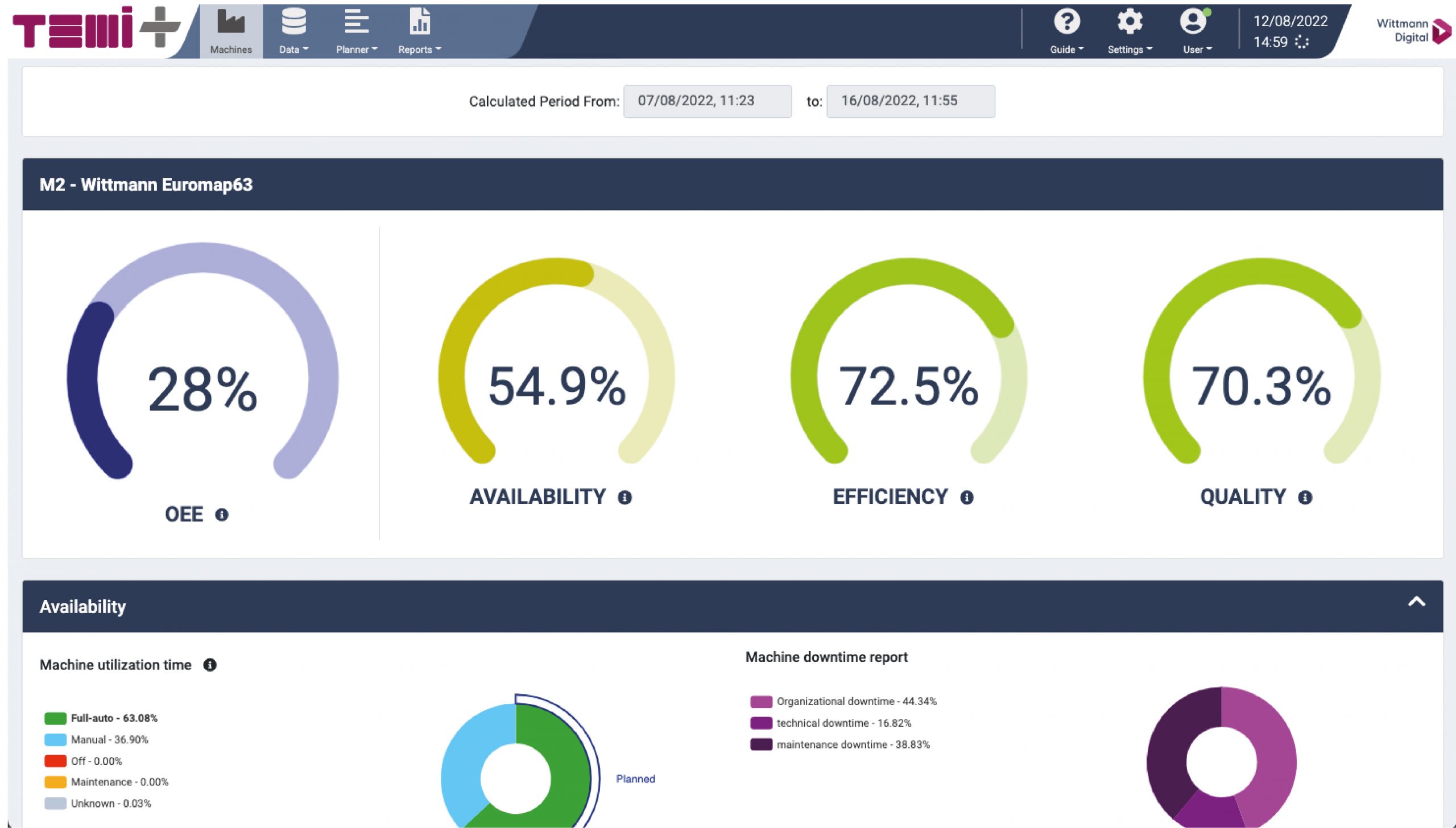 Merging process and quality data that TEMI+ retrieved from the machines gives meaningful insight on the system: average machine setup time, alarms quantity and recurrence, injection times, constancy, and repeatability are just some of the obtainable critical performance indicators.

These indicators allow you to better manage the production, in order to improve the quality of the products and the machine efficiency.

Quality Management System

The complete quality system, based on the ISO:9001 certification guidelines, is easy and intuitive, and allows the compilation of quality control forms. It is even possible to create control cards that can be edited directly on the machine.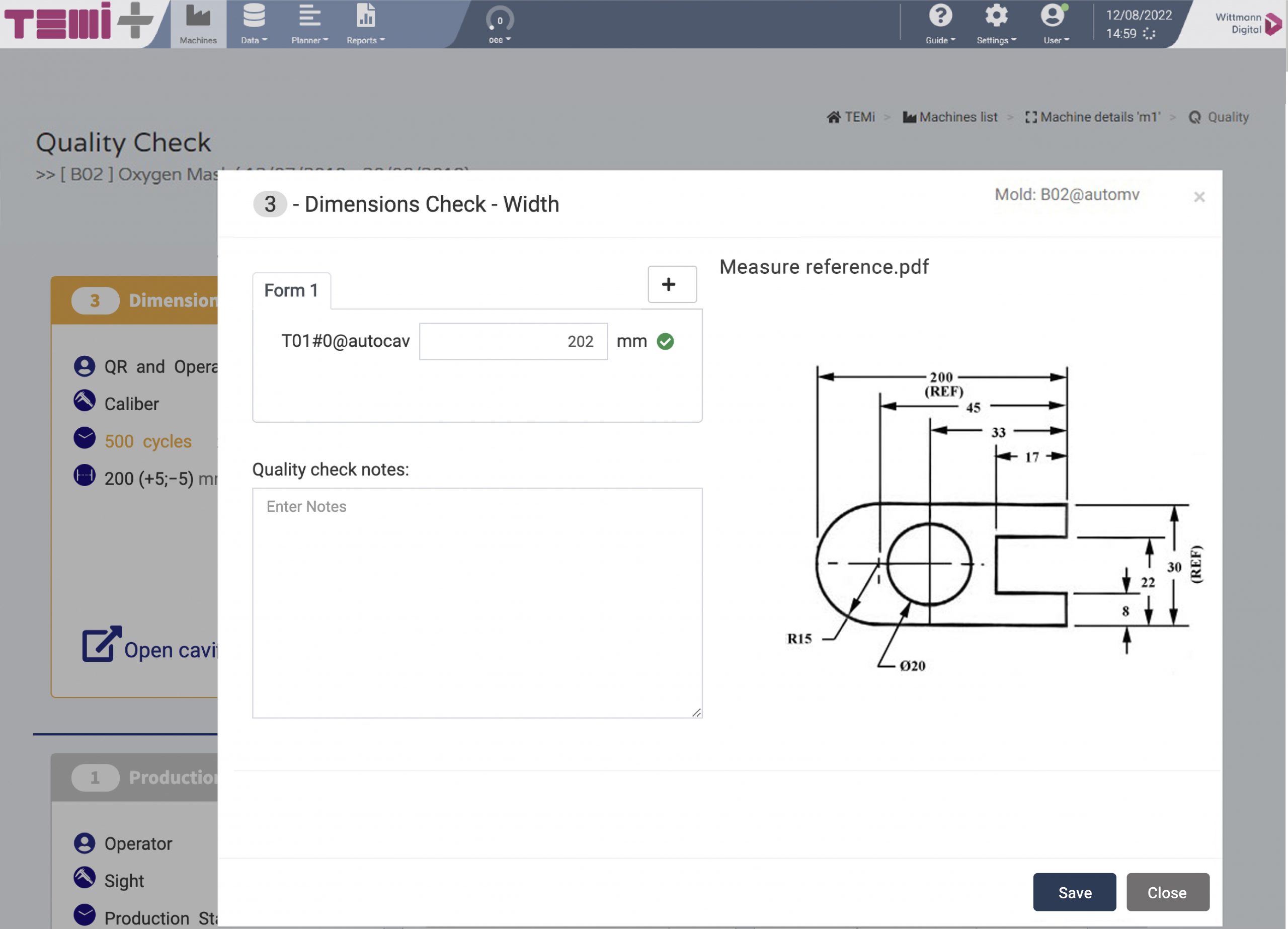 The card can be accompanied by checks and measurements made in compliance with the quality standards, but with the advantage of immediate archiving, absolute traceability and a reduction in time and processing.

Machine and mold maintenance

With the new maintenance module it is possible to record all mold or machine maintenance operation performed in the production plant.

In this way, the operator obtains useful information about machine and mold status, as well as more reliable calculation of delivery times.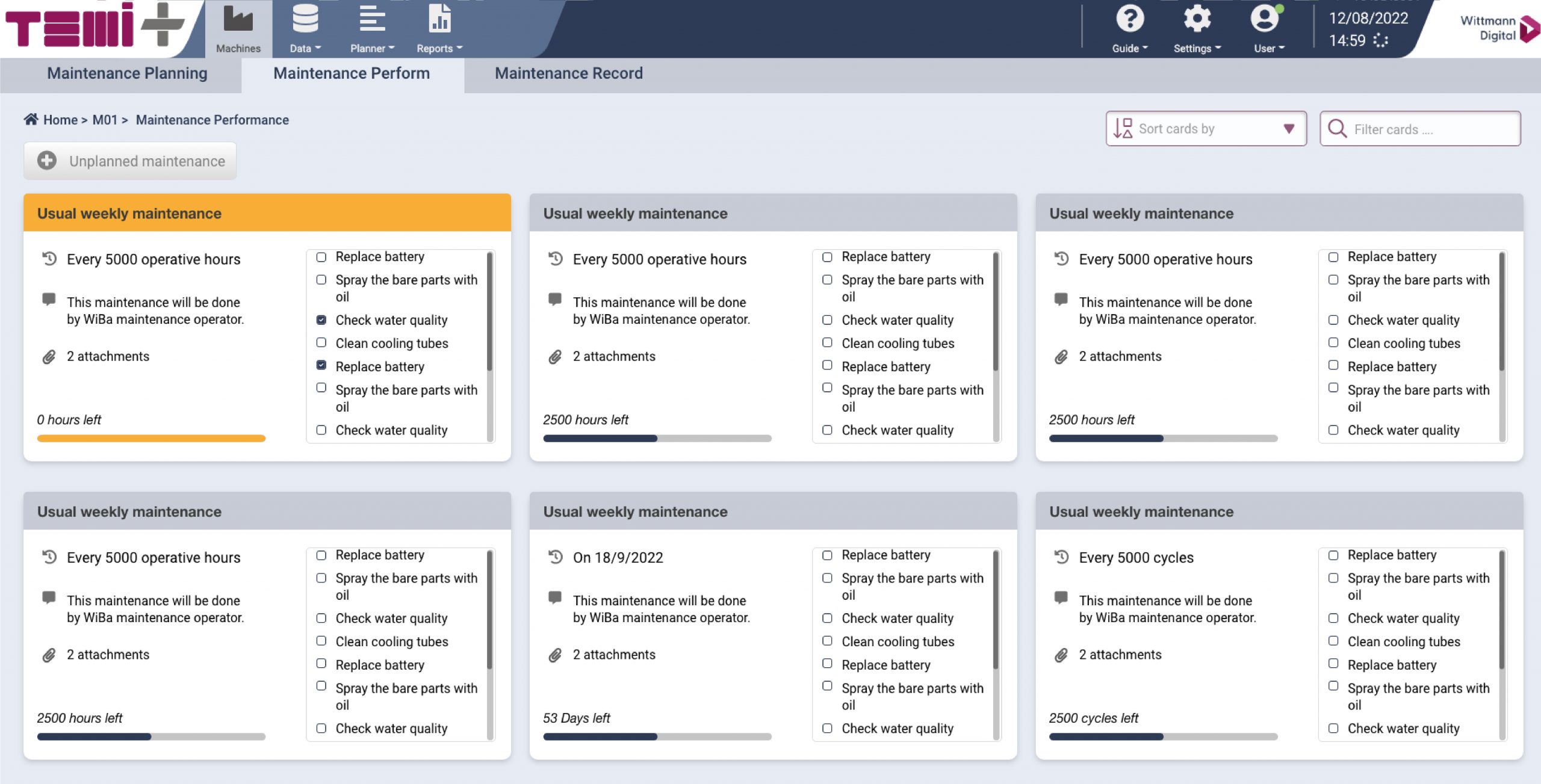 Order traceability

In the machine details page, you can print an adhesive label or QR code which allows you to retrieve production details like article code and description, number of produced parts, material lot number and product code. Tracing production code in TEMI+ database provides even more information on the product.